JD Jetting Kits Options
Click on the Make of your bike below to get more information:
Honda
-
Husqvarna
-
Kawasaki
-
Ktm
-
Suzuki
-
Yamaha
-
Click on the Photo Below for Full Size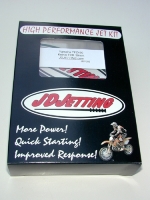 JD Jetting Kits:
James Dean designed the JDJetting kits so that you don't have to be an expert to get professional high performance results!! Even better, technical support is provided. The James Dean custom jetting kit is designed to improve throttle response throughout the range by using specially made multi-taper needles. These are based on the most popular settings used by new generation MX and off-road riders around the globe and the results are impressive. Exceeds the performance of standard 2-stroke and 4-stroke jetting, and other factory needle options. Low and High altitude custom designed triple taper needles. Main jets included. Spare needle clip. Dyno tested. Developed and tested from sea level to 12,000 ft elevation. You can't buy this level of performance from the OEM factory or other aftermarket suppliers. JD's testing and research will provide the performance you need.
Click below to find your bike!
Click on the Make of your bike below to get more information:
Honda - Husqvarna - Kawasaki - Ktm - Suzuki - Yamaha -